Recently, HPSC has released an official calendar, according to this notification Haryana Public Service Commission (HPSC) will conduct, the HPSC HCS Prelims on 11th Feb 2024. To crack the HCS Exam, it is essential to have a clear understanding of the HPSC Syllabus 2024. In this blog, we will give you a complete overview of the HCS Age Limit, Qualification, HPSC HCS Syllabus, and HCS Mains Exam Pattern.
HPSC Age Limit 2024
General – 18 to 42 years
OBC – 18 to 47 years
SC – 18 to 47 years
Disabled Person – 18 to 47 years
Unmarried Woman – 18 to 47 years
For HPSC HCS DSP, a candidate should not be less than 18 years and more than 27 years of age on or before 01.01.2024.
Qualification Required
You can sit in the HPSC HCS Prelims exam only if you have a graduation degree.
HPSC HCS Syllabus 2024
Candidates preparing for HPSC HCS 2024 should be well acquitted with HPSC HCS Syllabus. The first step in acing the exam is to understand the exam pattern and look out for the Previous Year's Haryana civil Services Papers. HPSC HCS Prelims exam includes two objective-type papers:
Paper-I: General Studies
The general studies syllabus is further divided into the following topics:
General Science.
Current events of national and international importance.
History of India and Indian National Movement.
Indian and World Geography.
Indian Culture, Indian Polity, and Indian Economy.
Haryana-Economy and people. Social, economic, and cultural institutions and language of Haryana
Paper-II: CSAT
CSAT is a qualifying paper, which means a candidate must secure at least 33% marks in this paper to be eligible for further consideration. The HPSC HCS paper-ll syllabus includes:
Comprehension
Interpersonal skills, including communication skills
Logical reasoning and analytical ability
Decision-making and problem-solving
General mental ability
Basic numeracy (numbers and their relations, order of magnitude, etc.-Class X level), Data interpretation (charts, graphs, tables, data sufficiency, etc. – Class X-level).
There will be a negative marking of 0.25 marks for every wrong answer.
HPSC Mains Exam Pattern
List of HPSC Optional: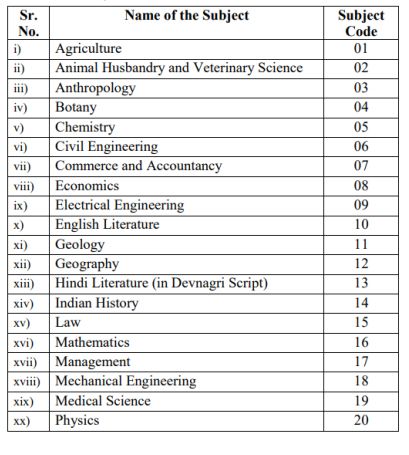 A candidate is required to obtain 45% marks in aggregate of the Mains Exam in order to be considered for the Interview/ Personality Test Stage.
Checkout our YouTube video to know more..https://youtu.be/u3PkW7ncISg